Naloxone Access
This pharmacist guidance document, developed by the College of Psychiatric & Neurologic Pharmacists, provides an overview on helpful topics such as product acquisition, prescribing and dispensing, patient inclusion, and brief case studies. Last updated: February, 2015.
Patient Counseling
As with dispensing any other medication, patient counseling at the time of naloxone dispensing may be necessary. Because most of the current naloxone products are packaged for medical professional use, the products do not contain direct patient instructions. In this case, patient counseling is particularly important. This is an example of patient counseling components for pharmacists.
Billing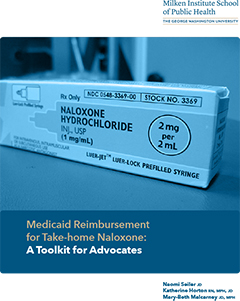 Medicaid billing considerations and guidance
Some insurance plans, including Medicaid and Medicare in some states, reimburse for naloxone rescue kits or components of the kits. Compiling a list of insurance plans in your area that will cover naloxone and collaborating with a pharmacist will be helpful. Because naloxone is not an expensive medication, even patients whose insurance will not cover the medicine may be willing to pay for naloxone.Advocates in some locations have been successful in persuading insurers to cover the cost of naloxone or have it added to local ADAP (AIDS Drug Assistance Program) formularies.
Stocking the materials*
This comparison chart describes ordering variation.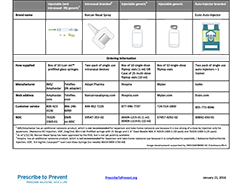 Naloxone Ordering Information
*We strongly recommend that prescribers and pharmacists coordinate logistics of prescription writing, assembling the rescue kit components and understand billing options prior to sending patients to have their prescriptions filled at a pharmacy to ensure that patients can fill prescriptions successfully and will know what they may be expected to pay.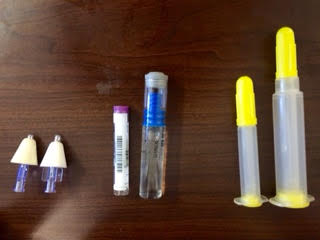 Some initiatives educate patients by having them practice assembling the naloxone rescue kit. All of the generic products may be refilled with water to reuse for practice. There are also demonstration kits that simulate the IMS/Amphastar product. We are aware of two places to purchase trainer kits – Save Lives and Pocket Nurse. Both of these trainer kits are slightly larger than the actual IMS/Amphastar naloxone and both are made of glass.
Naloxone rescue kit compounding & storage information
This comparison chart describes compounding and storage considerations.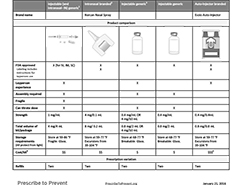 Download Comparison Chart
Regardless of the naloxone formulation, a complete naloxone rescue kit should have a minimum of two (2) doses of naloxone and two (2) delivery devices. Some locations with high illicit fentanyl prevalence have increased the number of doses to three (3). The kit components can be simply placed in a pharmacy bag as with other medications, or they can be packaged in a special "naloxone rescue kit" bag. Collaboration with a local organization engaged in an overdose prevention initiative may provide special bags or containers to promote a uniform message to the community. These are some examples: